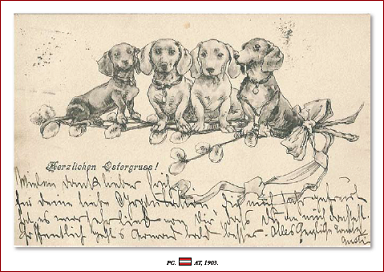 The image of the dachshund emerged in all the arts in the late 1800s and early 1900s. The breed has been a great influence to a number of artists who linked their name to this dog. Austrian painters Franz von Defregger (1835-1921) and Theodor Kleehaas (1854-1929), portrayed the dachshund in many of their genre scenes.

FOR READ ALL THE CHAPTER BUY THE BOOK...



The Book "THE DACHSHUND, Paper images of a dog's tale"
is now avaible for order online!
author: Patrizio Marcelli
Pages: 248
ORDER NOW >>>