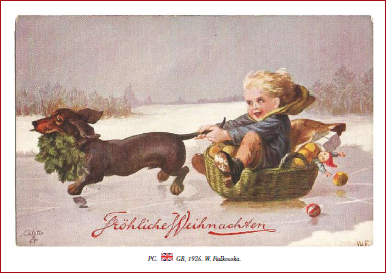 The images in this chapter are taken from postcards mostly published in the early 1930s. Some are paintings transferred to paper. The biggest part of the images were produced to be a postcard, with its peculiar graphic format, spontaneity and immediacy. Among the postcards on the dachshund those depicting him with children are the most common and easy to find. There are thousands of different subjects and were produced in all countries of the world.

FOR READ ALL THE CHAPTER BUY THE BOOK...



The Book "THE DACHSHUND, Paper images of a dog's tale"
is now avaible for order online!
author: Patrizio Marcelli
Pages: 248
ORDER NOW >>>