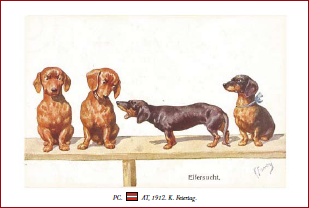 Barking is a tool for communication: transmission of messages to the close world and to man. Its intensity and repetition takes on a positive meaning for defense and hunting breeds. While the dachshund (a stubborn, combative and daredevil dog), is relatively small in stature, his barks and howls are deep and powerful.

FOR READ ALL THE CHAPTER BUY THE BOOK...



The Book "THE DACHSHUND, Paper images of a dog's tale"
is now avaible for order online!
author: Patrizio Marcelli
Pages: 248
ORDER NOW >>>