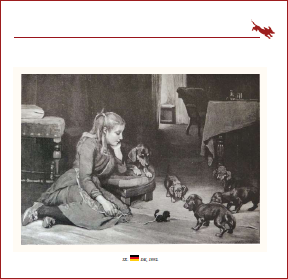 These images mainly describe the domestic environment of Austria and southern Germany where the dachshund is welcomed and represented as a family member. The breed originated in these regions, where it was not only used as a skilled assistant hunter but also as a loyal playmate for children.

FOR READ ALL THE CHAPTER BUY THE BOOK...



The Book "THE DACHSHUND, Paper images of a dog's tale"
is now avaible for order online!
author: Patrizio Marcelli
Pages: 248
ORDER NOW >>>