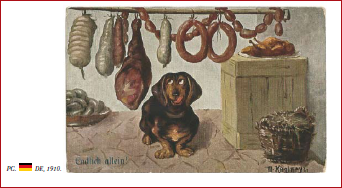 The dachshund is a dog that tends to gain weight; it has limitless greed that is seen in the postcards shown here. Hilarious images of dachshunds plotting to snag a cake or a sausage were widespread in the early 1900. In the 1900s the advertising world chose this breed specifically for advertising high calorie foods.

FOR READ ALL THE CHAPTER BUY THE BOOK...



The Book "THE DACHSHUND, Paper images of a dog's tale"
is now avaible for order online!
author: Patrizio Marcelli
Pages: 248
ORDER NOW >>>