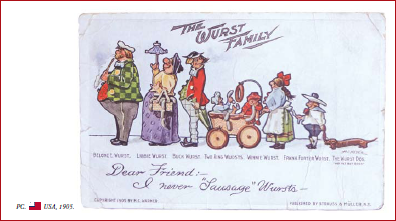 Normally the visual message of the postcards is transcribed with one single panel image sent with the card. There are, however, postcards whose story develops in multiple images to be "read in pairs" in order to be fully interpreted.

FOR READ ALL THE CHAPTER BUY THE BOOK...



The Book "THE DACHSHUND, Paper images of a dog's tale"
is now avaible for order online!
author: Patrizio Marcelli
Pages: 248
ORDER NOW >>>