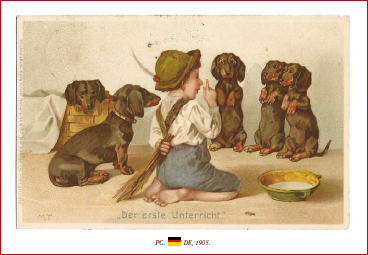 The different types of dachshund postcards (even among the oldest ones), often show the dog in the upright position, on two feet, as if in the "circus". A morphological four-footed animal with a very long body like the dachshund, is an animal that you certainly want to humanize, when you see it on two legs.

FOR READ ALL THE CHAPTER BUY THE BOOK...



The Book "THE DACHSHUND, Paper images of a dog's tale"
is now avaible for order online!
author: Patrizio Marcelli
Pages: 248
ORDER NOW >>>